...Teaches us how to make videos to differentiate ourselves and open doors.

Trusted by the smartest people on the internet:


Watching Cam facilitate is like watching Michelangelo paint.
—David Perell


Cam's course is a fantastic way to use video to accelerate your career and your business. I 100% recommend his course, his teaching, and his vibe."
—Ali Abdaal




Cam is the master of this stuff!
—August Bradley


Your business is growing too slowly?


Opportunities aren't coming your way?


You're ready to change your trajectory?

Stop Missing Out

Maybe you're an entrepreneur building a product or a service. A knowledge worker trying to own a niche as a thought leader. A course creator who knows that creating educational videos is a must-do.
You're someone the world needs to hear about.

Has this happened to you?
It's a regular morning and you're scrolling through a feed when a video catches your eye. Someone with less experience and less expertise than you is racking up comments and views.
Your heart drops to the floor. That was supposed to be you!
Not knowing video is what's holding you back. And it feels like the world is passing you by.
You're not alone. Video seems complicated.

Myth #1: "Hitting publish is scary" ​
What if I do a bad job and embarrass myself? What if my client or my boss sees it and doesn't like what I said?
It's easy to get trapped in a negative spiral of endless "what ifs."
Reality: These fears are unfounded. And living a life constrained by fear is not the life you want.
Reframe that fear as fuel and embrace the upside: Video brings good people and opportunities into your life.


Myth #2: "I don't have what it takes"
​When you see someone with flawless on-camera delivery, do you feel like they have something you don't? ​
Reality: The truth is that they're just like you and me. Being comfortable on camera, sharing your ideas with no stress or strain, showing your personality...anyone can do it.
It's a learnable skill. And you don't have to be an extrovert (I'm an introvert, myself). Even the most confident YouTubers started somewhere.
Overcoming these challenges is 100% doable. Practice, combined with guided feedback, always works. And that's what I want to give you.


Myth #3: "I can learn this on my own"
Slogging through YouTube and crappy google results is slow, lonely, and ineffective.
Reality: Learning with a supportive community means you have a built-in test audience and future collaborators.


Myth #4: "It's not ready yet"
Perfectionism is the silent killer.
It kills progress, momentum, and good ideas.
Reality: Perfectionism, just like audio capture and lighting design, is a solvable problem. ​And I can show you how.
Let's take a second and consider what life would be like if you could leverage video for work and life.

Imagine lighting up the screen


Your Ideas Become Scaleable Assets
Your insights, ideas, and experiences can't help you if don't share them to the world.
When you have the confidence and skills to share publicly, deals, projects, collaborations, and speaking gigs come to you.


More Clients, Customers, and Projects

This course guides the camera-shy through creating a body of work that resonates, creates connections, and builds trust.
Once you figure this out, your work sells itself.



Lighting, Audio, and Backgound

Once you set up repeatable, high-quality production, all you have to do is hit record and talk to the camera.
Zero friction. Before you know it, creating video becomes faster than writing.


The Right Words to the Right Audiences

Everyone takes a different path to being great on camera.
Imagine getting (and giving) real-time feedback from dozens of video-minded entrepreneurs on your ideas, messaging, and go-to-market strategy.

Learn and create faster with us

Minimum Viable Video is like a startup accelerator.
But the course doesn't set up startups to scale. This course scales YOU.
It does so by leveraging the pandemic-proof medium with global reach: video.
In this course, you will create video that delights viewers, hooks prospects, and brings opportunities to your inbox and DMs.


What Happens in Minimum Viable Video
"Make more videos" is the mantra of Minimum Viable Video because each video is an opportunity. An opportunity to improve (lighting, storytelling, delivery, etc.) and to get noticed (by potential clients, customers, and collaborators).
You'll achieve:
🎥 80/20 production: Repeatable, high-quality audio and lighting.
💸 Entrepreneur-first video: Videos that drive business value, not virality
🏆 A body of work with a supportive community: Expert-facilitated feedback and collaboration is the secret to growing with video.

Learning is better together: The faces of Minimum Viable Video cohort 5
Details

First session: January 9, 2024
Last session: January 27, 2024

💻 6 Live Sessions on Tuesdays and Thursdays 12-1 EST
These expert-facilitated sessions cover the mindset and mechanics of video creation, with plenty of time for Q&A.
🎬 2 Video Sprints on Saturdays 11-1 EST
In 2 hours, you'll go from the spark of an idea to finished footage. One student called these the highest ROI hours of his entire career.
🤗 An intimate community of smart people
You'll never feel alone. How do you know the strength of this community? We have several returning students every cohort.
💥 Learning by doing
No death by powerpoint here. All sessions focus on taking action on creating a body of work.
📡 Personalized feedback
Video is complex. One-size-fits-all advice doesn't work because of our filming environments and natural aptitudes. Personalized feedback is what speeds up the learning curve.
🎙 Small-room access to guest speakers
From Gumroad CEO Sahil Lavingia to home studio expert Kevin Shen to Youtuber Marina Mogilko, you'll get access to brilliant people.


I've taken a bunch of courses and the best one was Minimum Viable Video.
—Matt LaPrarie, entrepreneur


I had no idea I could do this! Love this class!
—Jennifer Bacon, graphic designer


Minimum Viable Video got me to 50,000 followers on TikTok.
—Adam Tank, watertech entrepreneur


The first video sprint [MVV's signature 2-hour learning-by-doing exercise] was the most productive two hours of my life.
—Kerry Robinson, entrepreneur


Video is such a valuable skill for me...I now have my setup and lighting ready to go to film Linkedin videos and videos for my courses. MVV showed me that this is fun and it's okay not to be perfect. For me, this was the right course at the right time!
—Julie Trelstad, book publisher


Extremely disappointing...that I didn't take this class five years ago.
—Joojo Ocran, accelerator manager



Getting Gigs, Getting Attention, Landing Jobs: Case Studies

Case Study #1:

☎️
No one was calling, no one was emailing
In early 2020, I was pulling myself together.
I had founded and led a company from an idea to operations in 50 countries. It was my baby. The person I trusted enough to hand my baby over to...had just "asked" me to leave. So I left.
I was starting over.
I knew I could do consulting work but the phone was not ringing. No one was emailing. How could I let people know about my expertise and that I was open for business?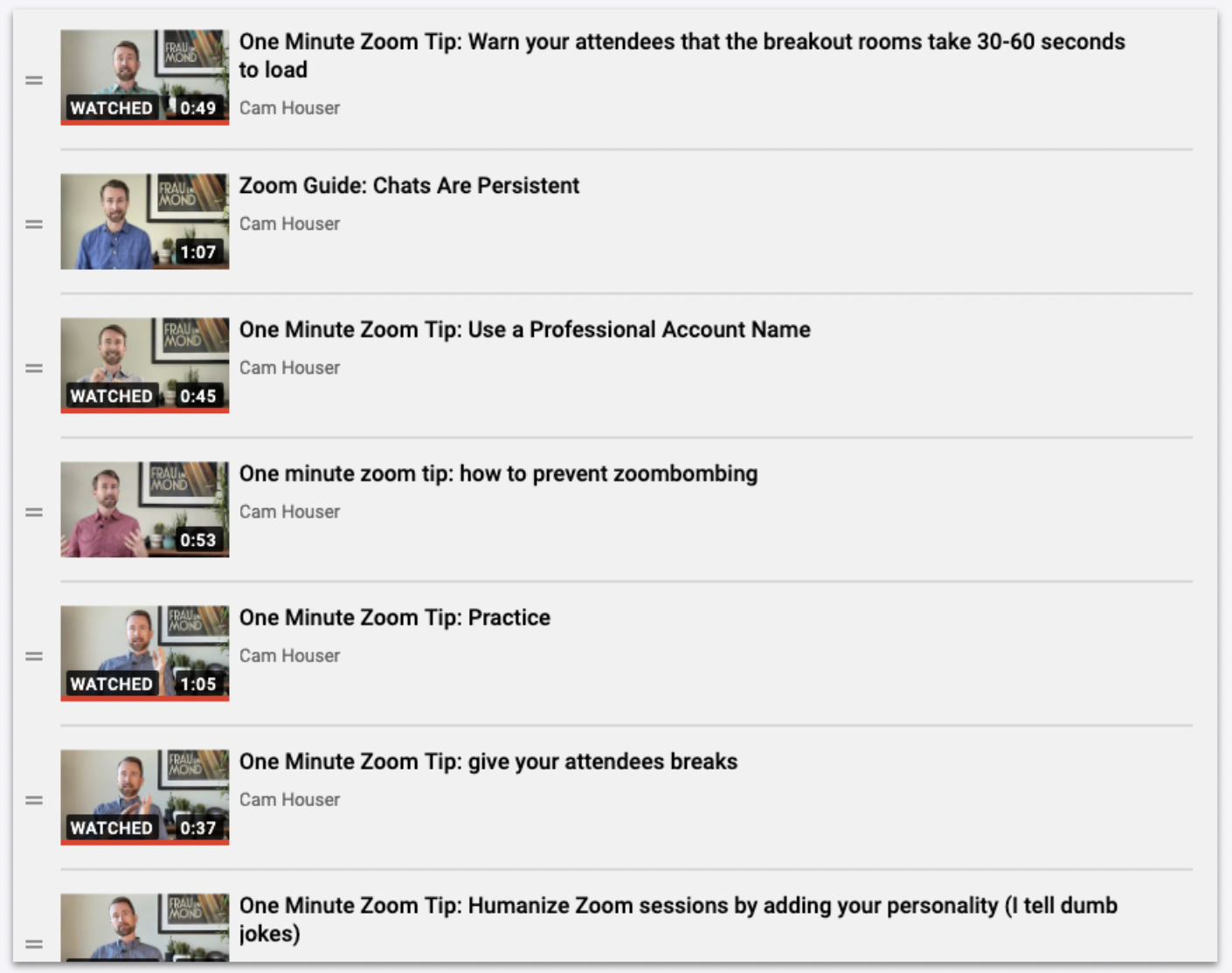 This was right around the time the Covid started. I had a hunch that Zoom might play a bigger role than it had before.
I grabbed my Iphone 6 and posted a series of low-effort videos on Linkedin called "One Minute Zoom Tips".
I knew almost nothing about engagement and the algorithm at that point.
After two weeks of posting these videos every couple of days, a 2nd degree connection DM'd me asking if I could help with a project.
One week later, that conversation led to a $15k consulting deal.

We've since formalized this approach into a framework we call the Microseries Method, and every MVV student creates a microseries during the course.


Case Study #2: Student Success Story

🧑‍🎓
He Created Videos and Sold his Company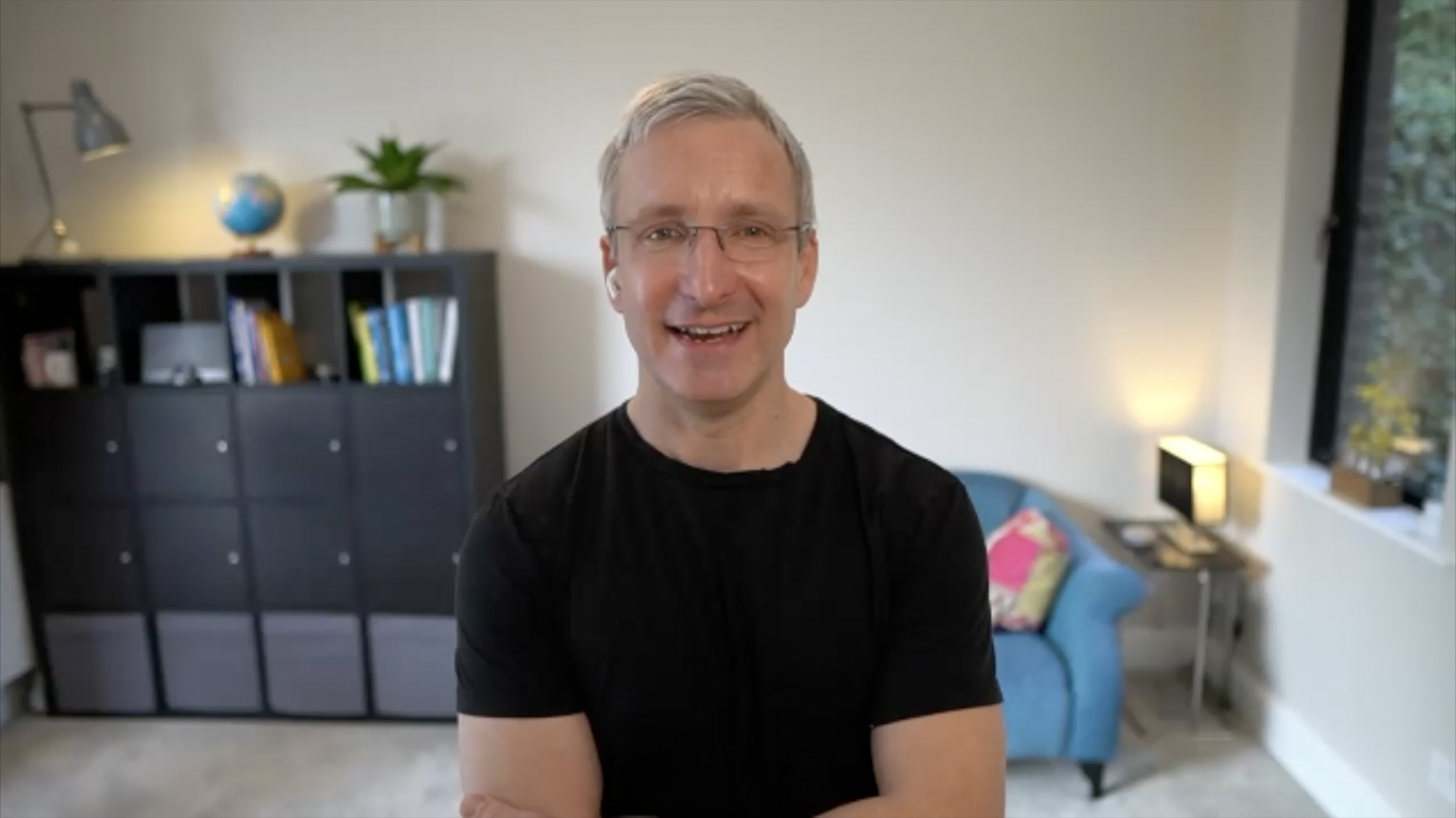 After four cohorts and hundreds of students, we nailed the formula for helping entrepreneurs create wins with video. The Microseries Method became a pillar of the curriculum.
Kerry Robinson (pictured) is a two-time student of Minimum Viable Video and founder of a conversational AI company called Voxgen.
He calls the microseries process "the most productive two hours of his life."




That's cool.
But want to know what's cooler than that?
He credits the microseries as the hook that piqued the interest of buyer, enabling him to sell his company for a tidy sum.
This approach can generate big wins.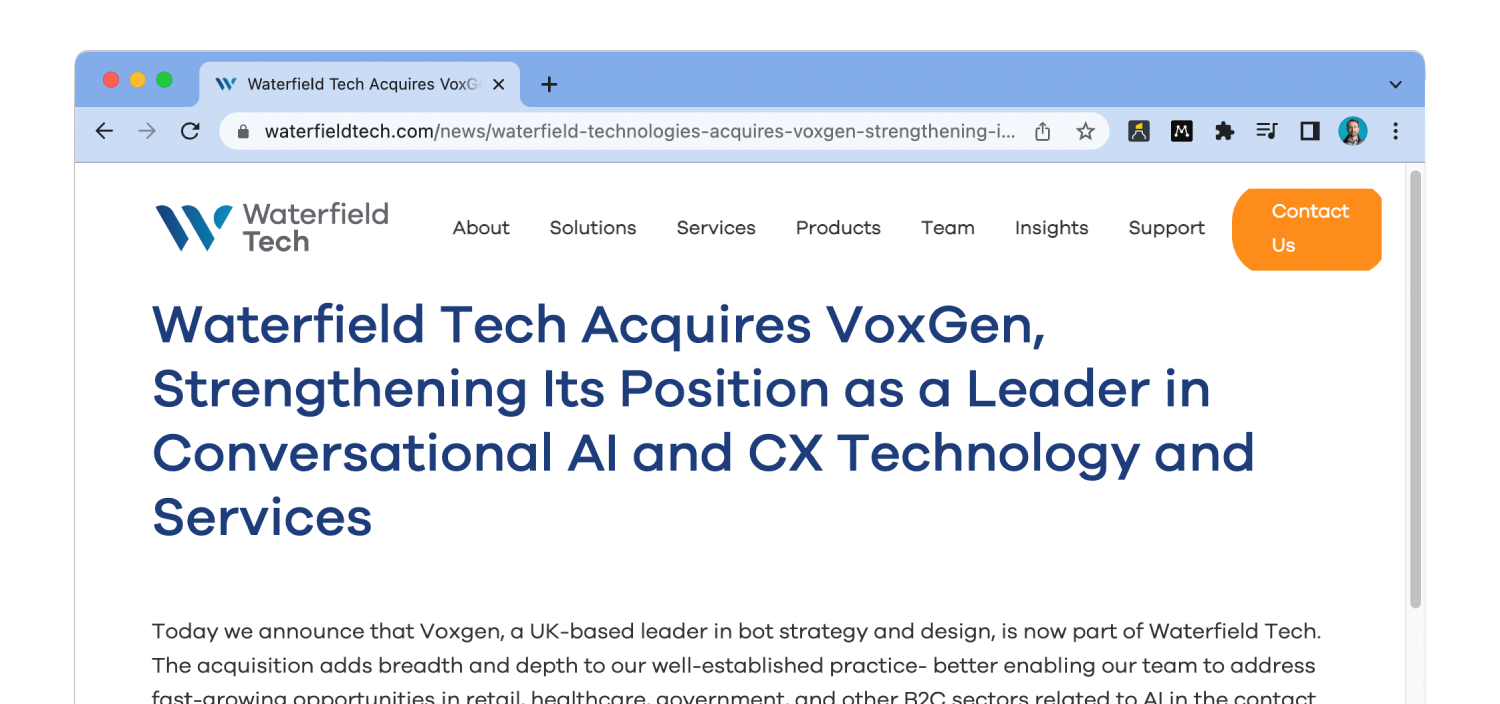 Case Study #3:

💰
The $52,000 video
A 90-second unlisted video closed a $52,000 consulting gig. And the best part? The video has four views.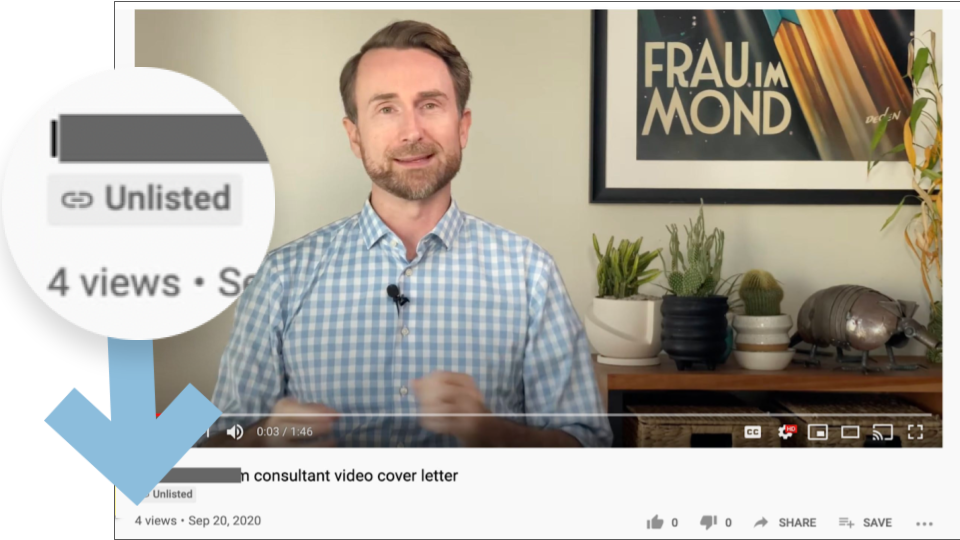 I sent a proposal to a company outlining a consulting engagement that would solve a curriculum problem they faced.
The proposal included a "cover letter" video unpacking a vision of what their future would look like if we collaborated.
The video conveyed imagination, passion, and nuance that a google doc could not. That 90 second video clinched the deal.
The takeaway? The videos that change your life aren't the ones with the most views.
Virality is overrated. The value of likes and comments only goes so far. Be entrepreneur-first in your approach to video.




About the Instructor

👨‍🏫
Why Learn from Cam?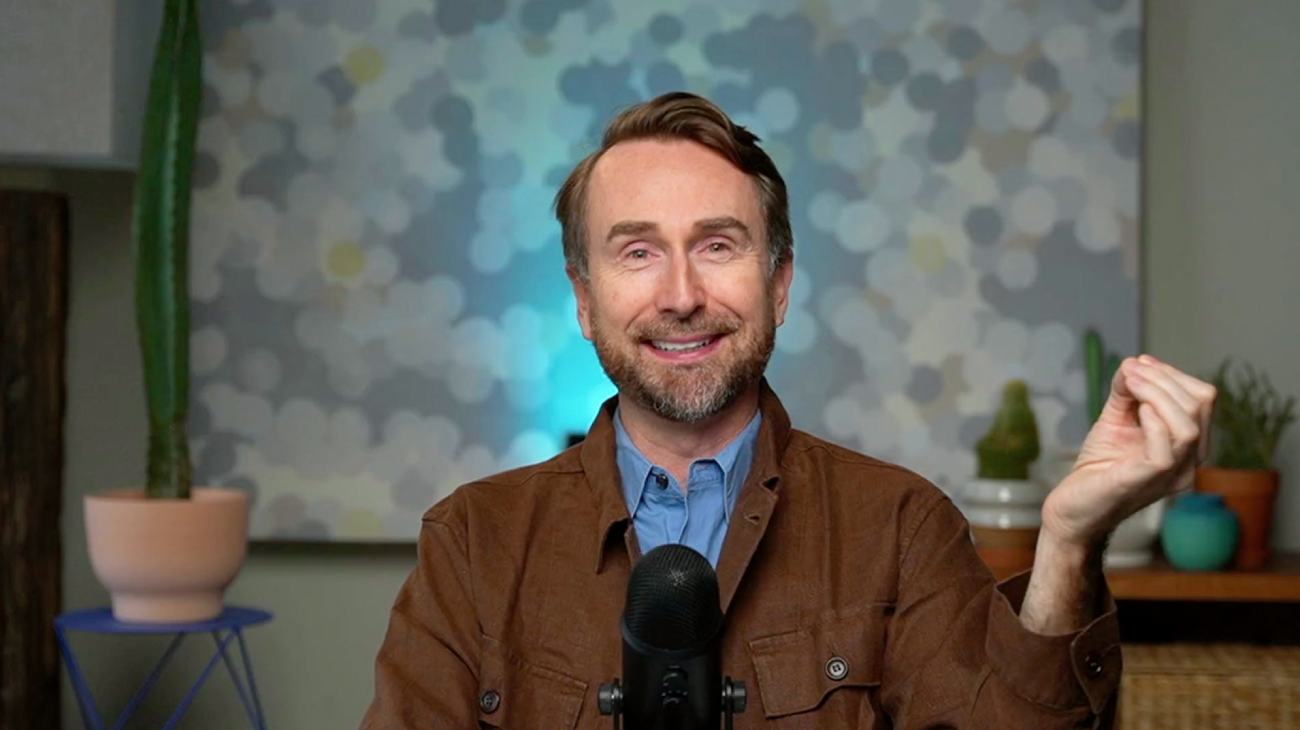 I teach this course to equip those already doing great work...but they realize they need to do a better job of broadcasting their impact.
Here's proof that I'm more than just marketing. I'm a four-time founder who can walk the walk:
• My education programs have served 20,000 people
• My learners have raised $187 million and sold their companies to Etsy and Google.
• I've designed educational programs for Apple, Silicon Valley Bank, GE Aviation, KPMG, Mercedes Benz.




Expert Experiential Learning
I'm obsessed with learning-by-doing, which is why the best learning institutions in the world have asked me to mentor, coach, and instruct.
My programs are taught at Harvard, Stanford, and M.I.T.
On the side, I'm a professor at The University of Texas, teaching Creative Entrepreneurship.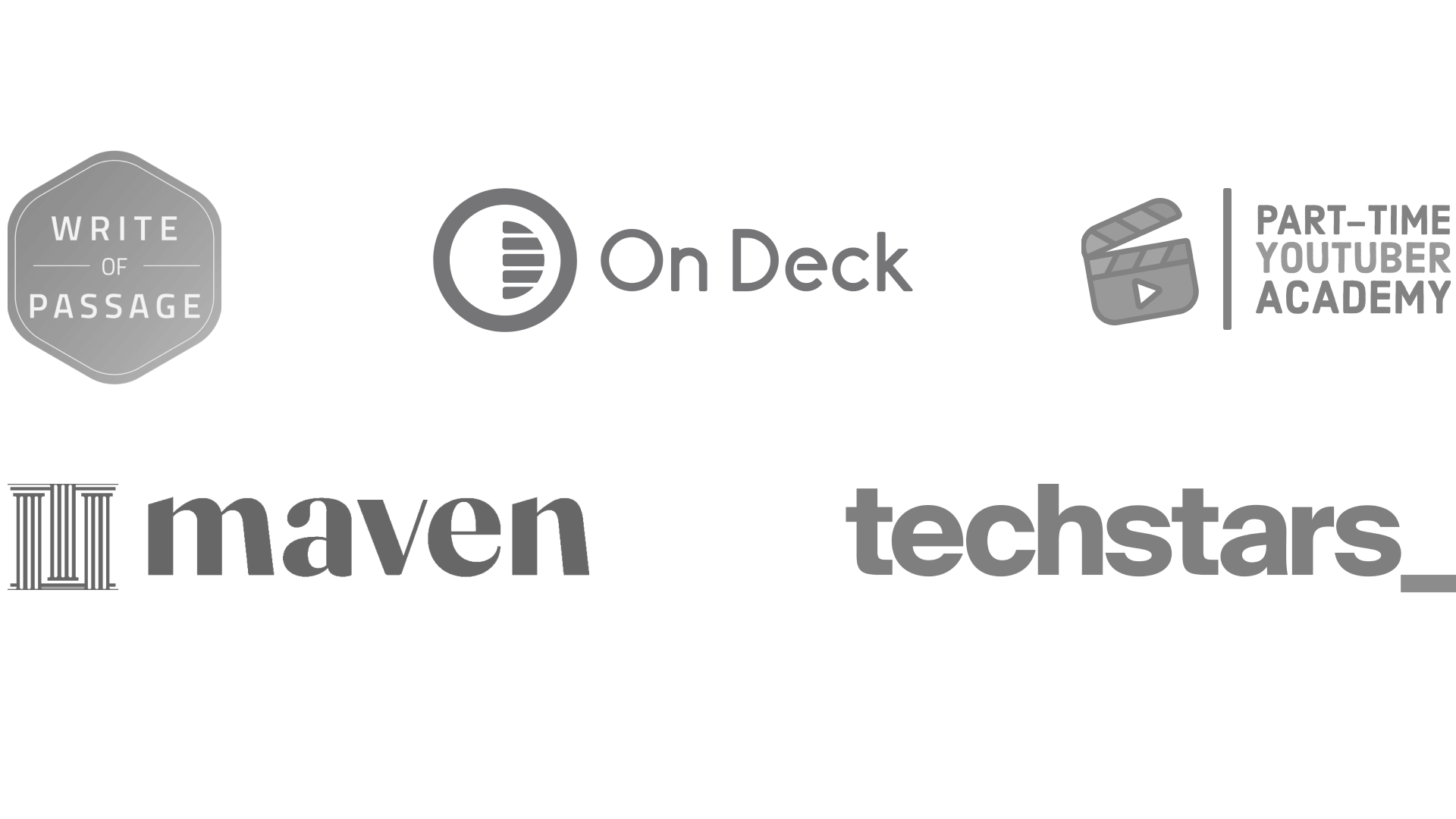 Made with ❤️ in Austin, TX